Summer can be the messiest time of the year. Workers will be spending more time outside, which will bring mud and germs to the workspace. Understanding why a clean office is important is pivotal to encouraging your employees to work more productively. A workplace that is not well maintained can cause discomfort for its employees, reducing their efficiency.
Why do you need a clean office in the summer?
Regular cleaning should become an office ritual during the summer due to the heat. As the weather becomes warmer, germs and bacterias can thrive, growing faster than in any other season. That is why actively cleaning is vital to improve your workforce's mental state and to prevent sickness from being spread through the office.
Eco-friendly cleaning products
All-purpose cleaner – Better life
This unique general-purpose cleaning substance is incredibly safe as it is made of plant extracts. It is devoid of any harmful components like synthetic fragrances, sulfates, dyes and petroleum. The cleaner has not been tested on animals; also the solution and packaging are biodegradable, making it an environmentally friendly product.
However, it doesn't stop there. As the spray is multipurpose, it can be used on almost all surfaces, becoming one of your go-to eco-friendly cleaning products to keep your office clean. It can be used on desks, tables, appliances, walls and floors. Not only is this spray environmentally friendly, biodegradable and general-purpose, but it is also highly affordable.
Natural cleaner and disinfectant – Force of nature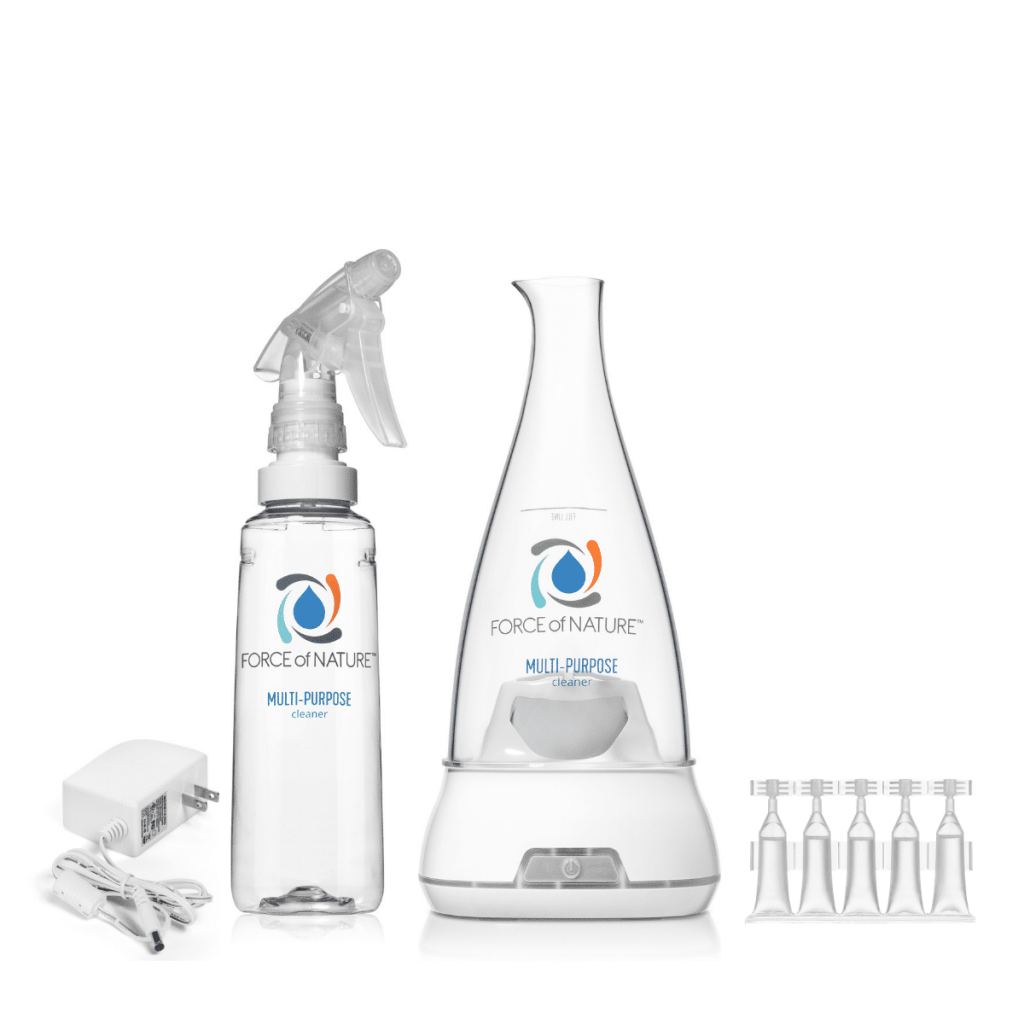 These natural cleaning products can be compared to the cleaning efficiency of bleach. Being composed of water, salt and vinegar mixed in, the force of nature device sends a small electrical current through the machine to combine the components, as if you were a chemist yourself.
Once combined, they will make sodium hydroxide and hypochlorous acid, which are very effective at cleaning grime, soap scum and other sticky messes, and it has the same efficiency as bleach. This makes it excellent at cleaning office desks and surrounding areas as well as the office kitchen.
Eco-friendly Kitchen multi-surface cleaner – KINN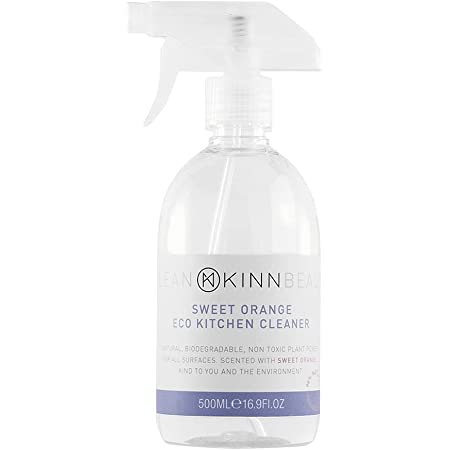 KINN provides a fantastic solution with a sweet aroma to clean and freshen up the workspace. Due to its all-natural ingredients, the spray will not set off allergies in your workers or yourself and should not be harmful in any way, like skin irritation.
This lovely smelling cleaning solution can be used on all surfaces like countertops, cabinets, handles, taps, fridges, and more! Also, if you would like to know how to clean your fridge in the workplace like a pro, check out our blog! The two smells that this solution comes in are sweet orange and lavender and rosemary; both are amazing at giving a pleasant scent in the workplace.
Washing up pad – LoofCo
LoofCo's unique loofah sponge is excellent for cleaning up dishes, mugs, cups and utensils without leaving scratch marks. Loofah sponge is entirely plant-based, making it biodegradable. It is made from a mixture of loofah plant and coconut fibres; when wet, it enlarges and becomes flexible and sponge-like, making it a great cleaning tool. This eco-friendly cleaning product is also incredibly affordable.
Biodegradable hard surface cleaner – Sal suds
This plant-based cleaner focuses on cleaning hard surfaces like countertops, dishes and bathrooms. However, it is also effective at mopping floors. Cleaning the floors is crucial as they will have all kinds of bacteria on them and a high potential for mud buildup and spillages. Learn more on how to clean your office floor with 5 tips on how to keep your office flooring clean. Due to it not having any preservatives, dyes or fragrances, it should not cause any irritations or allergies. As it is high in concentration, only a tiny amount is needed to complete your office cleaning tasks.
Hand sanitiser – Intelligent nutrients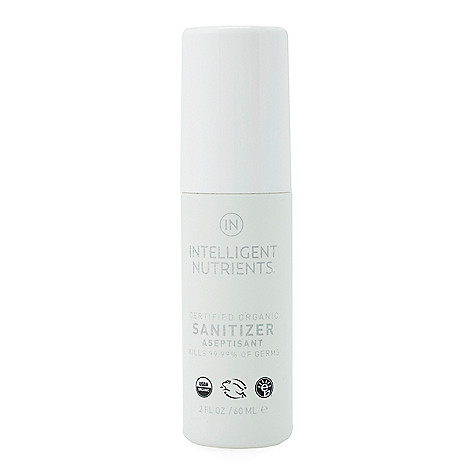 Due to the effects of COVID-19, sanitising has become an important part of everyday life. Hand sanitiser has become essential for workplaces to make their employees feel more comfortable whilst killing bacteria. The user-friendly sanitiser will only focus on killing bacteria instead of biomes on the body. There is a lack of alcohol smell on the sanitiser and making your hands feel soft and hydrated instead of having the usual sticky feeling. The sanitiser also kills off bacteria like Salmonella, MRSA and E-coli.
Toilet scrubber kit – Mr Clean
Mr Clean's useful bathroom cleaning product is excellent at eliminating toilet stains effectively. It also leaves a pleasant smell to replace any foul odours that your toilet may be emitting. The kit has a handle and storage component where you can rest the handle, and hold the refill disks that will be used to clean the inside of the toilet. The storage container can hold up to 6 additional disks.
The kit makes cleaning the toilet effortless, as you use the disk to remove any stains or dirt. Once the disk becomes effective due to wear and tear, simply replace it with a disk stored in the stand and begin cleaning again.
Office cleaning services
Office cleaning should be handled regularly, meaning that this can be a lot of upkeep to maintain over the summer. That is why investing in a professional cleaning company can help dramatically alleviate the stress of cleaning. Not only that but years of experience and an array of specialised tools and products to help with cleaning makes us experts in our field. Understanding why hire a professional cleaning service is important to keeping your workplace clean as it can get overwhelming for a person to clean the entire office space regularly.

Learn more about us, Ace cleaning services and get in contact with us to get a FREE evaluation on your workspace. Our friendly team would be excited to help you.